SUMMER POEMS

Summer - The warmest season of the year, occurring between spring and autumn. In the Northern Hemisphere it extends from the summer solstice to the autumnal equinox and is popularly considered to comprise June, July, and August, while in the Southern Hemisphere it falls between the winter solstice and the vernal equinox, or, popularly, December, January, and February.
Click here to read the monthly magazine.



Dandelion

O LITTLE soldier with the golden helmet,
What are you guarding on my lawn?
You with your green gun
And your yellow beard,
Why do you stand so stiff?
There is only the grass to fight!

- Hilda Conkling. (7-9 years old.)
Poems By A Little Girl.



Blue Flowers

Violets in April,
Forget-me-nots in May,
Larkspur in the month of June
To make your gardens gay!
Blue-eyed grasses in the fields
Of sunny-houred July;
August with her harebell hosts,
Blue as sea and sky.
But just before the frost,
And bluest of them all,
Like fairy banners, gentians spread
Their fringes to the fall.

- Rachel Field (1894-1942).
Taxi And Toadstools.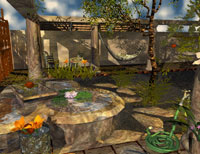 My Little Garden

I have a little garden,
And every summer day,
I dig it well,
I rake it well,
And pull the weeds away.

- Fact and Story Readers.



Names

Larkspur and Hollyhock,
Pink Rose and purple Stock,
Lovely smelling Mignonette,
Lilies not quite opened yet,
Phlox the favorite of bees,
Bleeding Heart and Peonies -
Just their names are nice to say,
Softly,
On a summer's day.

- Dorothy Aldis.




Daybreak In The Summer

A lovely morn! The summer night is gone;
How hushed and still is all the world
In wonder at the dawn.

- Japanese Hokku




The Sunflower

A rainy day in June, yet see, -
The sunflower turns its face
Toward the spot where the sun should be.

- Japanese Hokku.




A Summer Morning

I saw dawn creep across the sky,
And all the gulls go flying by.
I saw the sea put on its dress
Of blue mid-summer loveliness,
And heard the trees begin to stir,
Green arms of pine and juniper.
I heard the wind call out and say:
"Get up, my dear, it is to-day!"

- Rachel Field.




Fly Away, Fly Away Over The Sea or The Swallow

Fly away, fly away over the sea,
Sun-loving swallow, for summer is done;
Come again, come again, come back to me,
Bringing the Summer and bringing the sun.

- Christina G. Rossetti.



Rain In Summer

How beautiful is the rain!
After the dust and heat,
In the broad and fiery street,
In the narrow lane,
How beautiful is the rain!
How it clatters along the roofs
Like the tramp of hoofs!
How it gushes and struggles out
From the throat of the overflowing spout!
Across the window-pane
It pours and pours;
And swift and wide,
With a muddy tide,
Like a river down the gutter roars
The rain, the welcome rain!

- Henry Wadsworth Longfellow.